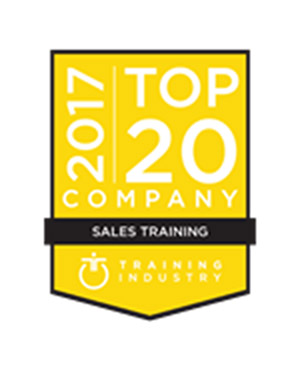 Hauppauge, NY – March 7, 2016 – TrainingIndustry.com has announced its Top 20 Sales Training Companies List, as part of its mission to continually monitor the training marketplace for the best providers of training services and technologies.
Selection to this year's Top 20 Sales Training Companies List was based on the following criteria:
Thought leadership and influence within the training industry
Industry recognition and innovation
Breadth of programs and range of audiences served
Delivery methods offered
Company size and growth potential
Strength of clients
Geographic reach
Experience serving the market
"The companies considered for the 2016 Top 20 Sales Training Companies list are some of the most impressive we've ever evaluated," said Ken Taylor, president, Training Industry, Inc. "This year's list continues to highlight the best providers of sales training, one of the segments in the training industry that is very open to innovation even though the majority of its services are delivered through instructor-led training."
This award reflects Dale Carnegie's renewed emphasis on its flagship sales course, Dale Carnegie Sales Training: Winning with Relationship Selling, which combines an innovative research-based training approach with time-tested Dale Carnegie human relations principles.
"At Dale Carnegie we believe in win-win solutions, positive relationships, and the untapped potential of every individual. Our relationship-oriented Sales Training curriculum is a natural outgrowth of that philosophy," said Joe Hart, CEO of Dale Carnegie Training. "We're honored to be included on TrainingIndustry's list, and will continue to find new and innovative ways to keep sales professionals performing at the top of their game." For over 100 years, Dale Carnegie has been helping sales people find the courage and confidence they need to take command of their role and provide clients with the highest levels of service.
View the 2017 Top 20 Sales Training Companies
Please provide any thoughts or feedback on this list by emailing [email protected]
About Training Industry, Inc.
TrainingIndustry.com spotlights the latest news, articles, case studies and best practices within the training industry, and publishes annual Top 20 and Watch List reports covering many sectors of interest to the corporate training function. Our focus is on helping dedicated businesses and training professionals get the information, insight and tools needed to more effectively manage the business of learning.
About Dale Carnegie Training
Headquartered in Hauppauge, New York, Dale Carnegie Training is represented in all 50 of the United States and over 90 countries. More than 2700 trainers present Dale Carnegie Training programs in more than 35 languages. Dale Carnegie Training is dedicated to serving the business community worldwide. In fact, approximately 8 million people have completed Dale Carnegie Training.
Dale Carnegie Training emphasizes practical principles and processes by designing programs that offer people the knowledge, skills and practices they need to add value to the business. Connecting proven solutions with real-world challenges, Dale Carnegie Training is recognized internationally as the leader in bringing out the best in people.