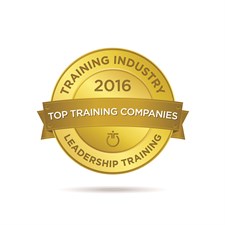 Hauppauge, NY – January 28, 2016 – TrainingIndustry.com has announced its Top 20 Leadership Training Companies List, as part of its mission to continually monitor the training marketplace for the best providers of training services and technologies. For the 4th year, Dale Carnegie Training has been recognized as an industry leader in this category.
Selection to this year's Top 20 Leadership Training Companies List was based on the following criteria:
Thought leadership and influence within the training industry
Industry recognition and innovation
Breadth of programs and range of audiences served
Delivery methods offered
Company size and growth potential
Strength of clients
Geographic reach
Experience serving the market
"The leadership training segment continues to be one of the strongest and sought after in the industry," said Doug Harward, CEO, Training Industry, Inc. "The business needs for leadership skills are changing, and the companies selected this year demonstrate how the training market is adapting to meet these changing development needs."
For over 100 years, Dale Carnegie has helped communities all over the world prosper by improving the personal and financial well-being of the people who live there, and the companies that do business there. "We are pleased to be a part of the 2016 Top Leadership Training Companies List. Our courses have defined leadership training for generations, and we're excited to continue our founder's legacy of innovation," said Joe Hart, CEO of Dale Carnegie Training. "Our aim has always been helping people tap into the best parts of themselves to create positive change. We're honored to have played a part in the success of so many leaders worldwide."
View the 2016 Top 20 Leadership Training Companies
Please provide any thoughts or feedback on this list by emailing [email protected]
About Training Industry, Inc.
TrainingIndustry.com spotlights the latest news, articles, case studies and best practices within the training industry, and publishes annual Top 20 and Watch List reports covering many sectors of interest to the corporate training function. Our focus is on helping dedicated businesses and training professionals get the information, insight and tools needed to more effectively manage the business of learning.
About Dale Carnegie Training
Headquartered in Hauppauge, New York, Dale Carnegie Training is represented in all 50 of the United States and over 90 countries. More than 2700 trainers present Dale Carnegie Training programs in more than 25 languages. Dale Carnegie Training is dedicated to serving the business community worldwide. In fact, approximately 8 million people have completed Dale Carnegie Training.
Dale Carnegie Training emphasizes practical principles and processes by designing programs that offer people the knowledge, skills and practices they need to add value to the business. Connecting proven solutions with real-world challenges, Dale Carnegie Training is recognized internationally as the leader in bringing out the best in people.